The Microsoft Edge password manager is a convenient browser-based solution that offers to save passwords and autofill login information. When users log into an online account using their credentials, the built-in password manager shows a dialogue box offering to save the logins and passwords for websites.
If the user agrees to save passwords in the browser's built-in password manager, the credentials are encrypted and stored on disk or in the cloud (optionally). The key to decrypt the passwords is stored in an OS storage area. The Edge password manager is activated by default when the browser is installed.
While Microsoft Edge is slightly more secure than the Google password manager, it has its drawbacks. When users decide to adopt a more secure and professional password management solution, they need to disable the built-in password manager on their browser. Here's how to do that.
How to Disable Microsoft Edge password manager
The steps to disabling the Edge password manager differ slightly based on the device and the OS.
Disabling Microsoft Edge password manager on Windows and MacOS
Step1. Click on the three horizontal dots in the top right corner of your browser window. It's called Settings.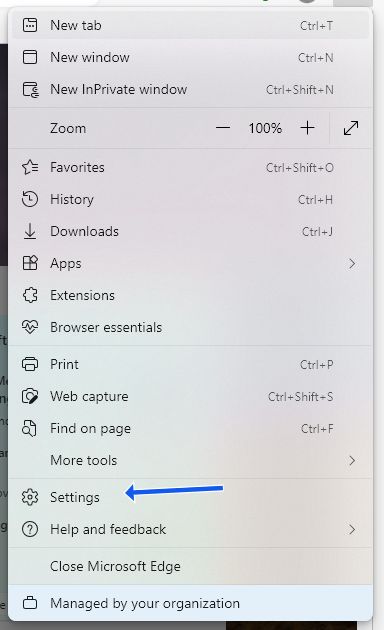 Step 2. Select Settings > Profiles and then Password manager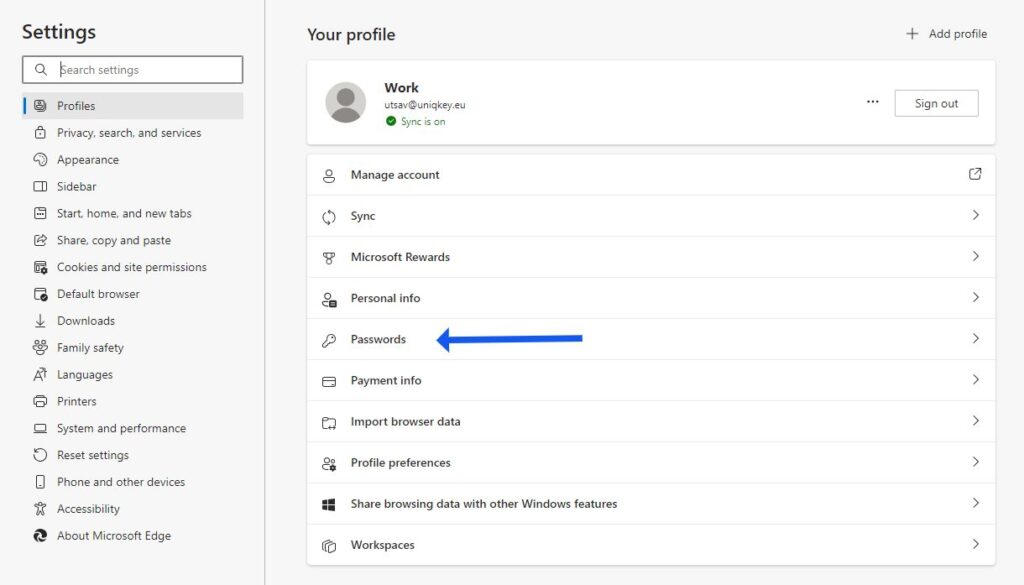 Step 3. Turn off the Offer to save passwords option and Turn off Autofill password.
---
Disabling the Edge password manager on iOS devices
Open the browser app
Tap on Settings
Tap on Privacy
Turn off Offer to save passwords and Automatically save passwords
---
Disable built-in password manager on Android devices
Launch the Edge browser app
Find the hamburger Menu icon at the bottom left and tap on it
Tap Settings
Tap on Account
Tap on Passwords
Turn off Save passwords
Note: Turning off the built-in password manager on your Edge browser stops Edge from asking to save your passwords. But it doesn't delete the passwords. All the saved passwords are still accessible through your Microsoft account.
---
How to delete saved passwords in Microsoft Edge
To delete a specific password
Go to Settings
Inside profiles, select a password manager
Under the main settings, you can see all your saved passwords
Select any service from which you want to delete the password
Check the box adjacent to the password you want to delete and click on Delete.
To delete all saved passwords
Click on Settings and more  (Three horizontal dots)
Select Settings
Click on Privacy, search, and Services from the Settings window
Under Clear browsing data, select Choose what to clear.
Select Passwords
Select Clear now
Note: It's important to take a backup of the passwords saved with Microsoft Edge before deleting them. Otherwise, you will lose the passwords and must manually fill them into another password manager.
---
Exporting passwords from Edge
Open Microsoft Edge
Click on Settings and more
Go to Settings –> Passwords
Click on the three horizontal dots in the top right of the list of passwords
Click on Export passwords
Authenticate the action by entering your Microsoft account password

The passwords will be downloaded as a CSV file. Save it somewhere safe.
Note: If you happen to be using backup software, turn it off before initiating the password export so that the unencrypted passwords are not stored as part of the backup.
You need to import the passwords to another password manager as soon as possible and permanently delete the CSV file containing unencrypted credentials.
---
Disadvantages of using Microsoft Edge's built-in password manager
The password manager by Edge encrypts your passwords using Advanced Encryption Standards (AES). It doesn't get much better than that. So why should you not use your Edge browser's default password management feature? The simple answer lies in Microsoft's own documentation.
Here's a passage from the article titled Microsoft Edge Password Manager Security:
However, physically local attacks and malware are outside the threat model, and under these conditions, encrypted data would be vulnerable. If your computer's infected with malware, an attacker can get decrypted access to the browser's storage areas. The attacker's code, running as your user account, can do anything you can do.
This implies that anyone with access to your Microsoft account, and/or the device from which you are logged into the account, can access, edit, and delete all your credentials.
Passwords are not protected by a master password
Password managers like Uniqkey encrypt your passwords using zero-knowledge technology. Your master password is the decryption key and it is stored nowhere. Browser-based password management tools lack this vital layer of protection.
It cannot protect logins and passwords against malware running as the user
If hackers compromise an entire device using malware that runs as the legitimate user of the computer, they gain access to and decrypt everything stored in the browser's storage areas.
No cross-platform support
While the password manager that comes with Edge allows you to access passwords from multiple devices by using the sync feature, it doesn't support cross-platform usage. That means you can get the auto-fills exclusively on the Edge browser.
---
How Uniqkey, a business-only password manager can help?
Password security is a matter of grave seriousness especially when it comes to logins and passwords for professional accounts. While Microsoft Edge offers a free and convenient password management solution, it is not nearly as secure as enterprise-grade password managers like Uniqkey.
The lack of features like the master key, 2FA auto-fill, and shadow IT monitoring makes the default password manager for Edge a little unreliable for business use.
Consider disabling it to adopt a password management solution like Uniqkey that offers military-grade encryption and features like secure password-sharing portals, automated logins, and security scores for each password.
Try Uniqkey for free to experience password management at its best.