The Chrome browser by Google comes with a default password manager. It is set up automatically at the time of installing the browser. Whenever a user logs into a website or an online service account, the built-in password manager opens a dialogue box asking whether it should save the user ID and the password.
If a user clicks on save and agrees to save passwords with the browser, the password manager saves the credentials for that specific account. When the user returns to the same login page, the Chrome password manager offers to autofill the login and password information.
The Google password manager is a neat feature offered for free by Google. It is pretty convenient, too, for specific use cases. But users often need to disable it owing to their personal security preferences or when they are moving to a more secure password management solution.
This guide will show you how to disable Chrome's password manager and why doing so may be necessary.
Disabling Google Chrome Password Manager on a Web Browser (4 Steps)
Use the following steps to disable Google password manager on your computer.
Step 1. Open a tab on your Chrome browser and Click on the profile icon. The profile icon sits at the top right corner of the browser window, between the three vertical dots and the side-panel button.
Step 2. Spot the key-shaped icon right beneath the search bar. Click on it to open the Google password manager window.
Step 3. Find the settings button on the left side of the window of Password Manager and click on it.
Notice the first three options in the settings menu. Each one of those has a toggle switch adjacent to it. The options are –
Offer to save passwords: Turn it off to stop Chrome from asking to save new passwords.
Sign in automatically: Turning it off stops Google password manager from automatically logging you into accounts using saved passwords.
Show passwords from your Google account: Turning it off hides the passwords saved for a specific Google account. Users must log in to their Google accounts to toggle it on again. This option is not visible on the same window for some users, so ignore it.
Step 4. Toggle all the switches off to turn off the Google password manager in Chrome.
How to Disable Google Password Manager on Mobile?
For Android users
Launch the Chrome app
Tap on the three dots in the top right corner
Tap on Settings from the drop-down menu
Tap on Password Manager
Toggle Off Save Passwords and Auto Sign-in
For iOS users
Open the Chrome app
Tap on the Chrome menu
Tap on Passwords
Toggle off Offer to save passwords
Once you disable Chrome password manager, it stops offering to save passwords or auto-fill credentials. However, it still stores all previously saved passwords. You would want to delete those.
But before wiping out all the passwords from the built-in password manager, it is crucial to take a backup so that you can move all passwords to a different password vault.
How to Export all passwords from the browser?
Open the Google password manager
Go to Settings
Find the Export passwords option and click on Download file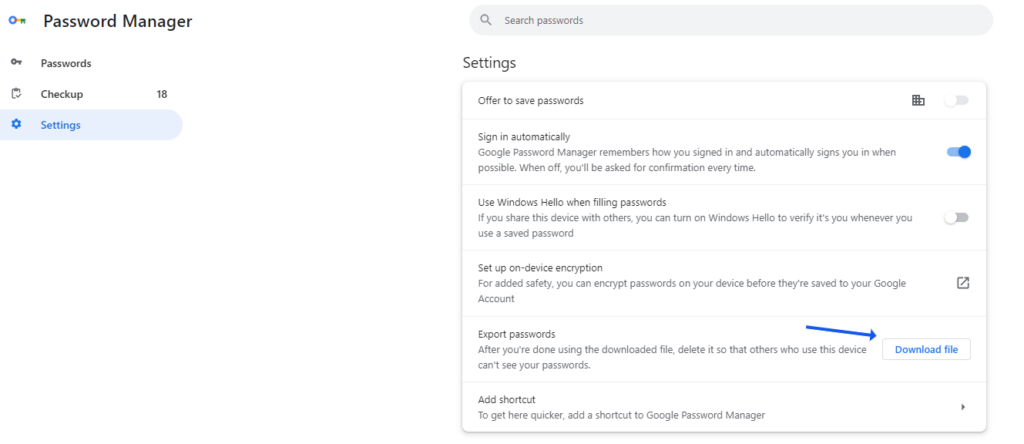 If you do not see the Export passwords option, that is because you toggled off the Show passwords from your Google account option earlier. Turn it back on by logging into your Google account. Then, you should be able to use the Export Password option.
Note: All passwords in the downloaded CSV file are unencrypted, hence highly insecure. Delete the file after you have imported the credentials to another password manager.
After exporting the credentials, you are ready to delete all passwords in Google password manager.
How to delete saved passwords from Chrome?
The process for deleting all passwords with a single click is different from the method of deleting a single or select group of passwords. We'll discuss both.
Deleting a specific password
Open Chrome
Click on the profile icon
Click on the key icon
You will see a list of all saved passwords. Scroll through the list to find the password you want to delete, or search for it on the search bar.
Click on the rightward arrow aligned with the password to delete
Click on Delete
Deleting all saved passwords
Open Google Chrome
Click on Customize and Control Google Chrome (three vertical dots in the top right corner)
Hover over More tools
Click on Clear browsing data from the pop-up (You can alternatively use the shortcut, Ctrl+Shift+Del) 
Select Advanced
Check the box adjacent to Passwords and other sign-in data
Select Clear data
---
Why disable Google Chrome's built-in password manager?
Google offers a couple of good password management features.
It encrypts all passwords before storing them.
It has a Checkup feature that shows reused passwords, weak passwords, and passwords that have been compromised.
It allows you to set up on-device encryption so that even Google cannot access your passwords in plaintext.
Even with these features, Chrome's password manager is still basic in terms of security, control, and convenience. It's excellent for strictly personal use. Your professional credentials need better protection.
Google uses server-level encryption by default
While Google has started offering on-device encryption, it is not set up by default. Your passwords may be compromised if hackers are able to access your browser remotely.
Passwords are visible in plaintext to anyone who has your device
If you are logged into your Google account with a specific device, anyone with access to the device can view passwords stored in the browser-based password manager. Unlike secure password managers, Chrome doesn't protect passwords with a master password or master key.
The Chrome password manager doesn't offer safe password-sharing
Enterprise-grade password managers like Uniqkey offer secure password-sharing portals that teams can use to share credentials securely without exposing them in plaintext. Chrome offers no such feature.
Google Chrome doesn't warn about weak or reused passwords by default
While you can find weak and reused passwords by using the Checkup feature, Google doesn't stop you from or warn you against using the same weak password everywhere.
---
How Uniqkey, a business-only password manager can help?
There is little or no difference between saving a password with Chrome, writing it down on a piece of paper, and sticking it on a wall in your room – anyone in the room can see it, just like anyone with access to your account or device can see the passwords.
If you are serious about your company employee's passwords, a better option to store and secure confidential information like login details, choose a password manager that offers military-grade encryption along with features like secure password-sharing portals, automated logins, and security scores for each password, consider Uniqkey.
Try Uniqkey for free to experience password management at its best.